The Walmsley Family of Liverpool
John Walmsley (1756–1811) - Marble Mason
John Walmsley stuck with his father's trade, becoming well known as a marble mason and builder and leading an eventful personal life. In 1787 "John and Phillis Walmsley" had a child, christened William. Phillis is not heard of again and no record of a marriage is evident; so it remains unclear who precisely Phillis was and whether she was John's first wife. Their son William is not mentioned in John's will and may not have survived childhood. However, there is an intriguing possibility that he was the William Walmsley who became a notable glass dealer and manufacturer in Liverpool.
By 1791 (but quite possibly several years earlier) John is believed to have married Elizabeth Perry (though again the marriage record has not surfaced). Their first known child, christened John, was - according to the parish register - born and christened in Liverpool in late 1792. As the eldest surviving son he was destined to follow his father into the building trade. Another son, named Joshua after his father's younger brother, died at the end of 1793. He was probably the second born, dying soon after his birth. In 1794 another Joshua (later the renowned politician Sir Joshua) was born at the family home (stated to be in Concert Street but usually referred to as being in Wood Street). Tradition dictated that the baby should be named in honour of his dead brother. About a year later, John and Elizabeth had a daughter, probably christened Sarah after John's mother Sarah Forshaw. (It has not been possible to locate the christening records of either Joshua or of Sarah.) Unlike their elder brother, Joshua and Sarah were well educated. Sarah became a teacher and went on to become Abbess of a French convent!
What became of Elizabeth is unclear. At the time of his death John was married to one Ann: she may conceivably be the same person as Elizabeth. This notion is supported by the mention in the biography of Sir Joshua that husband and wife had separated. This ties in with John's will, in which he showed his feelings for Ann by leaving her just one shilling.
In about 1805 John took up with a widow called Mary Harrison. They seem to have had four children in rapid succession, all acknowledged as Walmsleys: John Forshaw (b c1806), Amelia Sophia Forshaw (b c1808), Mary Ann (b c1810) and Elizabeth Forshaw (b 1811). In his will (signed within days of his death) John left his estate to Mary Harrison for her own upkeep and that of his five children until they reached the age of 21. John also made provision for "such other child or children as I shall have by the said Mary Harrison". Elizabeth Forshaw was born the same day the will was signed and christened two weeks after! Very little is known of what became of Mary's illegitimate children. They do not rate a single mention in the biography of their stepbrother Sir Joshua. However, in 1837 Amelia married an illiterate labourer (later boilermaker and coal merchant) called Robert Jones.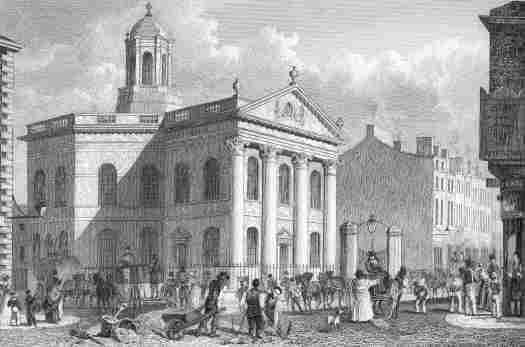 Unitarian Chapel in Paradise Street
John is first listed in a trade directory in 1787 as a marble mason in Wood Street and remained there until at least 1797, after which he moved a short distance to extensive premises in nearby Berry Street. According to Picton's Memorials of Liverpool, John was a man of considerable taste who built the new premises himself in Georgian style round three sides of an open quadrangle, where the business was carried on. The wings were adorned with pediments and pilasters, traces of which can still be seen behind later additions.
Amongst the buildings John worked on was the Unitarian Chapel in Paradise Street, which opened in 1791. Picton describes the building as "by no means without merit" and constructed of brick faced with stone. It was octagonal with a columned portico opening to the street and had seating for over 1100. In the mid-19th century the chapel was turned into the Royal Colosseum Theatre! The Stranger in Liverpool concludes: "The whole is well planned, and finished with a degree of taste and elegance seldom to be met with in structures of this kind." In view of John Walmsley's reputation it is perhaps surprising that so little is known of his work and a pity that, as a result of widespread redevelopment of Liverpool in the 19th century, so little probably remains.
At one time John also owned quarries in Toxteth Park and in Ireland at Kilkenny, where he was often absent. By the time of his death, however, his estate was much reduced. His business continued to be listed in Berry Street right up to 1811 but the record of his burial gives his address as Mill Street in Toxteth Park and his Berry Street presence may have much less than in his hey-day. His passing was marked with the briefest of notices inserted in the Liverpool Mercury. He left personal effects under £600 in value (not an insignificant sum in 1811 but insufficient to guarantee an affluent upbringing for his children; and, on returning to Liverpool, the young Joshua clearly felt in straightened circumstances).
>> Sir Joshua Walmsley b1794 (son)
>> Joshua Walmsley b1761 (brother)
< Isaac Walmsley b1721 (father)