The Walmsley Family of Liverpool
William Walmsley (c1787-1851) – Glass Manufacturer
It is not known for certain what became of John Walmsley's first (and possibly illegitimate) son William. He might have died as a child. However, he might be the William Pilkington Walmsley who founded a successful glass business in Liverpool in the 1820s. The glass manufacturer died in Liverpool in 1851 at the age of about 63, a fairly close match for the William born in 1787.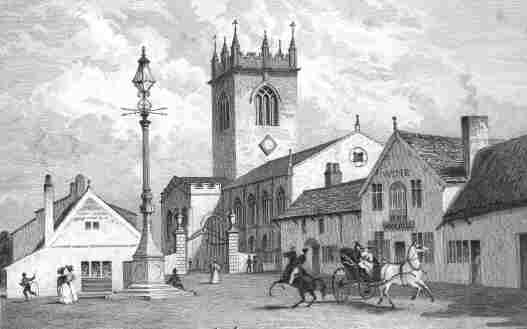 Warrington
We first hear of William as a glass cutter in 1807, when Justices of the Peace in Prescot served a bastardy order on him in respect of a child called Sarah born to Ellen Chadwick of the township of Whiston. William, resident in nearby Warrington, was ordered to pay £1.18s.6d and then 1s.6d weekly for the upkeep of the child.
In about 1811 William married one Ellen (possibly the same Ellen Chadwick but perhaps – from the name of one of their children – Ellen Mackintyre). They had 10 children over the next 20 years, the first four born in Warrington, the rest in Liverpool: Mary (b 1812), Martha (b 1814), Margaret (b 1816), Hannah (b 1819), Eliza and Harriet Ellen (b 1823), William Mackintyre (b 1824), Emma (b 1827), John William (b 1831) and Ann Jane (b c1832).
In this period glass making was one of Warrington's principal industries. William first appears in a Liverpool trade directory in 1823 as a glass cutter. Then in a steady progression his entries change first to dealer, cutter & engraver, then to dealer and finally to manufacturer. Initially he lived in Frederick Street and had a shop on the corner of Hanover Street. Later he moved house to the nearby but more prominent Upper Pitt Street (close to the house of John Walmsley's nephew John) and had his shop premises in South John Street.
At his death in 1851 William left a personal estate valued at under £800 and a viable business. His sons had evidently died as children and his wife Ellen also predeceased him and so in his will, which is a model of elegance, William made arrangements for his daughters to carry on the business. In fact the name of William Walmsley & Co continued for several decades.
The Children of William Walmsley
Harriet Ellen (b 1823) was given sole management of the shop business and was urged in her father's will to trade with Thomas Robinson, a glass manufacturer in Warrington. However, the other three unmarried daughters – Eliza (Harriet's twin, b 1823), Emma (b 1827) and Ann Jane (b c1832) - were to share with Harriet Ellen the assets and proceeds of the business. The eldest daughter Mary (b 1812), who had married a mariner called John Murray and been widowed soon after the birth of their two daughters Helen (b 1835) and Elizabeth (b c1837), received £40 payable in eight instalments and a collection of furniture including a feather bed, six mahogany chairs, a chest of drawers and a sofa. In later years Mary earned a living as a dressmaker.
Within weeks of her father's death in 1851 Eliza had married Andrew Cooper, a Scottish merchant. Harriet Ellen disappears from the scene at some point; perhaps she too got married. In turn, Ann Jane married Edward Brownfield, a commercial traveller, in 1861. This left Emma in sole charge of the shop. She lived with Mary and Helen Murray, who were working as dressmakers, in Great George Square, a stylish address, until she died in 1878 at the age of 50. The business was then continued by Helen Murray for about 20 years before she removed to Kirkby Lonsdale in Westmorland to run a lodging-house, dying there in 1908 aged 73.